Denifanstat – Our Lead Product Candidate in Multiple Diseases
Denifanstat, our lead drug candidate, is an oral, once daily pill and first-in-class inhibitor of fatty acid synthase (FASN), the key enzyme in the de novo lipogenesis (DNL) pathway that converts metabolites of dietary sugars such as fructose into palmitate, a saturated fatty acid.
Denifanstat was selected from our extensive compound library after a rigorous medicinal chemistry and preclinical development effort. The drug candidate, which received Fast-Track designation from the FDA for the treatment of NASH in March 2021, has been studied in more than 600 subjects, including healthy volunteers and patients with NASH, acne and solid tumors.
Non-Alcoholic Steatohepatitis (NASH) – Ongoing Phase 2b Trial with Denifanstat
NASH is an aggressive form of non-alcoholic fatty liver disease characterized by the build-up of fat in the liver, inflammation and fibrosis along with systemic metabolic changes including dyslipidemia and insulin resistance. Left untreated, the liver becomes cirrhotic and even cancerous with time. The damage can also exacerbate a spectrum of other health problems including cardiovascular diseases, obesity, type 2 diabetes and metabolic syndrome. NASH is a growing epidemic that affected more than 265 million people worldwide in 2019. Currently, there are no approved treatments in the United States or Europe.
We believe our lead program, denifanstat, is differentiated among drug candidates in development for NASH due to its ability to directly target hepatocytes, inflammatory cells and stellate cells in the liver, which we believe will lead to meaningful clinical benefits for NASH patients. Denifanstat is currently being evaluated in a randomized, double-blind, placebo-controlled Phase 2b trial (FASCINATE-2) in NASH patients with fibrosis. Positive interim results from this trial were presented at the American Association for the Society of Liver Diseases (AASLD) conference in November 2022 and showed that denifanstat significantly improved key markers of disease compared to placebo after 26 weeks of treatment, including:
67% responder rate in liver fat reduction, defined as reduction in liver fat by 30% or more (p<0.01)
16.5 U/L decrease in ALT (p<0.05)
0.34 decrease in enhanced liver fibrosis (ELF) score (p<0.05)
Safety data remain blinded while trial is ongoing; trial passed planned independent data monitoring committee review in November 2022.
These results are consistent with earlier findings from our FASCINATE-1 Phase 2 clinical trial, in which denifanstat demonstrated significant improvement across a comprehensive set of non-invasive biomarkers in patients with NASH.
Topline 52-week FASCINATE-2 data with biopsy results are expected in the first quarter of 2024. Results from both FASCINATE-2 and FASCINATE-1 will enable us to design the pivotal Phase 3 program for denifanstat in NASH.
Combination Potential and Other Nash Indications
Based on its proposed mechanism of action, oral administration and good tolerability profile to date, denifanstat has the potential to be a backbone monotherapy as well as improve clinical activity in combination with a broad set of other drugs. We believe combination therapy has the potential to play a meaningful role in the NASH treatment paradigm to effectively address all patient segments.
Given the disease complexity as well as the heterogeneity and large size of the NASH patient population, we intend to study denifanstat in other NASH indications such as cirrhotic (F4) NASH and pediatric NASH to maximize its full clinical and commercial potential.
Acne – Ongoing Phase 2 Clinical Trial
Acne is the most common skin condition in the United States, affecting up to 50 million Americans annually. Acne is a promising therapeutic area for application of FASN inhibitors because FASN is required for sebum production, which is upregulated in acne and leads to exacerbation of acne lesions including development of nodules and cysts. In two Phase 1 clinical studies, denifanstat reduced overall sebum production, including palmitate and sapienic acid lipids.
In May 2023, our license partner, Ascletis, announced positive topline results with the achievement of primary and key secondary endpoints in a Phase 2 randomized, double-blind, placebo-controlled clinical trial in 179 patients with moderate to severe acne vulgaris in China.
Based on these results, we are evaluating options to move forward with our own acne program in the US, Europe, and other markets.
FASN's role in acne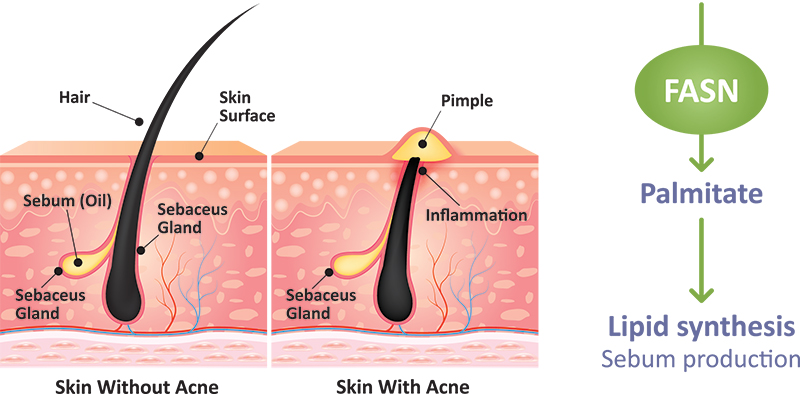 Oncology
Dysregulation of fatty acid metabolism is a hallmark of certain cancers. Increased expression of FASN has been associated with poor prognosis and reduced survival in tumor cells. Several cancer types have been shown to upregulate FASN to rewire lipid metabolism and change the nature of the tumor cell membrane making these cells resistant to traditional cancer drugs. FASN inhibition can also potentially address the enormous challenge of resistance to cancer therapies.
We completed a Phase 1 clinical trial with denifanstat in 136 patients with solid tumors which demonstrated promising clinical activity in defined patient populations and provides the foundation for future clinical development.
Our strategy is to evaluate denifanstat either alone or in combination with other classes of oncology drugs in specific subsets of solid tumors that are FASN-dependent.
These include:
Glioblastoma – Ascletis, our license partner in China, is currently testing denifanstat in a Phase 3 clinical trial in glioblastoma (GBM), with enrollment of approximately 120 patients expected in the third quarter of 2023 as the basis for an interim analysis. If the results of this study are positive, we will explore with regulatory authorities initiating our own registrational trial with denifanstat for the treatment of recurrent GBM.
Metastatic castration resistant prostate cancer, FASN-dependent – Planning underway for investigator-sponsored Phase 1 clinical trial of denifanstat combination therapy
Hepatocellular carcinoma FASN-dependent – Translational studies ongoing
Non-small cell lung cancer/KRAS mutation – Additional preclinical work ongoing; encouraging results observed in patients with NSCLC KRASM tumors enrolled in a Phase 1 clinical trial in patients with solid tumors.